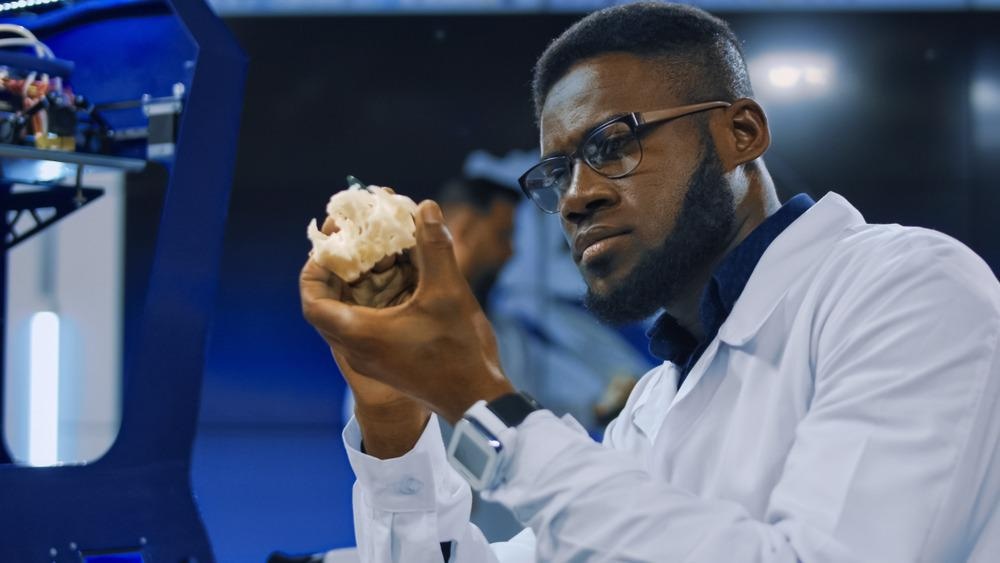 Image Credit: FrameStockFootages/Shutterstock.com
While modern cancer therapies are continually evolving and improving patient outcomes and quality of life, tumor heterogeneity and the variability of tumors between patients generate individual differences in patient responses to drug therapies. This presents a significant barrier to the overall efficacy of cancer drug therapies.
Additive manufacturing (AM), commonly known as 3D printing, has flourished in recent years and has developed applications across a wide range of industries. As technology has evolved, it has become cheaper and more versatile, and scientists have explored its uses in more complex applications. 3D printing is currently experiencing growth in medical, and there is significant innovation taking place in cancer applications.
3D printing is being explored as a way to address the issue of tumor heterogeneity. Scientists are creating 3D in vitro models of biological systems and structures with microenvironments to help plan complex, individualized therapies. One such company taking significant steps forward in this field is Barcelona-based BCN3D, which recently collaborated with Mirai3D and a team of doctors at the Hospital Transito Caceres de Allende, Argentina, to create and manufacture biomedical models that improve the surgical planning process of cancer treatments.
Using 3D Printing to Better Plan Surgeries
Often in oncology, surgeons must strategically plan their intricate and complex surgeries to ensure that they do not endanger the patient as they maneuver around the body's vital organs and systems. Medical professionals will often go through the stage of preoperative survival planning to allow them to formulate a plan to give them access to the tumor site that limits disturbance to vital organs and produce a step-by-step guide to follow during the surgery. This process allows doctors to flag any potential complications and helps them plan to avoid them.
The preoperative survival planning process has evolved with the advent of 3D printing in medical applications. Now, the combination of X-rays with 3D printing technology has emerged as the optimal method for preoperative survival planning. Using this strategy, doctors can create a virtual model of the area to be operated on which can then be printed to produce a tangible model with life-like dimensions.
One of the world's leading developers and manufacturers of 3D printing solutions, BCN3D, has developed its independent double extrusion system (IDEX), a unique double extrusion architecture that allows for two heads to print simultaneously and independently. 3D-printing models often require constructing auxiliary support structures. Models printed using traditional single head extruder systems require an additional time-consuming process of removing the supports once the model is printed. The process of removing supports in this way negatively impacts the quality of the surface where the supports have been removed from the structure which can compromise the structural integrity of the printed product. In some cases, where the geometry of the model is complex and challenging, it can be impossible to remove all these supports manually.
BCN3D offers a solution to this drawback of 3D printing. Its IDEX architecture overcomes this issue as it allows two extruders to work independently, so one can work on printing soluble supports and the other can focus on building multi-material parts that will be included in the final model.
Usually, when dual extrusion printers print at the same time, there is a risk of molten plastic dripping onto the structure creating filament threads. To overcome this, the IDEX system parks one extruder while the other is working.
The company has now joined forces with Mirai3D and doctors at the Hospital Transito Caceres de Allende, Argentina, to leverage this technology within oncology. They have shown the technology's capability of producing 3D-printed models of different types of biological structures such as bone or tissue. IDEX technology can also print in different colors to visually code the 3D models so that doctors are able to easily see the different biological parts incorporated into the model, facilitating their survival planning processes.
By working with the doctors at Hospital Transito Caceres de Allende, BCN3D demonstrated the use of its IDEX technology in planning surgery for a woman with liver metastases. The surgery was complex and required precise planning. The team used IDEX technology to help generate a model of the area to be operated on, using different colors to identify key structures and printing accurately to a resolution of 0.02 mm. Transito's Dr Nari expressed his view that the technology could be helpful in the oncology field, "I believe that in cases like these, 3D printing technology becomes an extremely helpful tool".
The technique established by BCN3D and its partners also has important applications outside of supporting cancer surgeries. The method will also be invaluable to medical students as it provides an advanced training model, giving students access to learn about biological structures in fine-grain detail. Models can also be printed to help explain procedures to patients, reducing stress and anxiety over treatment via education.
BCN3D's technology will likely make a significant impact in oncology and medicine. 3-D printed models may soon become protocol in preoperative survival planning processes and help improve therapeutic success. 3D printing in medical applications is set to become a growing industry, particularly in cancer applications.
References and Further Reading
BCN3D. BCN3D's 3D printing technology creates biomedical models that improve cancer surgeries. [Online] Available at: https://www.bcn3d.com/bcn3ds-3d-printing-technology-creates-biomedical-models-that-improve-cancer-surgeries/
Haleem, A., Javaid, M. and Vaishya, R. (2020) 3D printing applications for the treatment of cancer. Clinical Epidemiology and Global Health, 8(4), pp.1072-1076. https://www.sciencedirect.com/science/article/abs/pii/S2213398420300890
Serrano, D., Terres, M. and Lalatsa, A. (2018) Applications of 3D printing in cancer. Journal of 3D Printing in Medicine, 2(3), pp.115-127. https://www.futuremedicine.com/doi/10.2217/3dp-2018-0007