AZoM speaks with Dr. Jean-Christophe Leroux, Professor of Drug Formulation and Delivery at ETH Zürich. Jean-Christophe and his team have developed a new 3D printed airway stent that will allow for the quick and safe treatment of upper airway obstructions. 
What benefits will the 3D printed stent make to the treatment of upper airway obstructions?
3D printed stents based on CT scans perfectly fit the anatomical needs of individual patients, enabling them to stay at the place of the insertion. This unprecedented customization could be achieved in a short time and at a reasonable price.
What were the experimental techniques involved in the recent research?
We used digital light processing 3D printing for the stent production and a set of relevant mechanical, toxicity and degradation tests to characterize their properties.
What advantages does the 3D printed stent have over metal or silicone stents?
The main advantage is its biodegradability, as both metal and silicone stents require additional interventions in order to be removed, which may cause further tissue damage. This especially affects children, as their airways are still growing, and elderly patients. Also, these stents are personalized, which reduces the risk of migration and subsequent medical procedures.
The researchers developed three different 3D printed stent designs. Image Credit: The Science Advances journal
How long does the stent take to dissolve after it is implanted?
In our in vivo experiments, the stents disappeared after 7 weeks. Our team works on the extension of the degradation time while preserving the benefits from the first generation.
Could you give our readers more information on the process of Digital Light Processing (DLP) and explain how it was used in this research?
DLP is a 3D printing technique based on light-initiated solidification of the liquid materials. Liquid resin contains (macro)monomers with various additives, which polymerize upon the light exposure and create a solid layer. The object is printed in a layer-by-layer fashion, where every layer represents a slice of a 3D object with a certain thickness. We used it to manufacture customized stents with a smooth surface.
What properties of the light-sensitive resin made it the ideal material for the stents?
Our resin is a mixture of high and low molecular weight components, which enabled us to tune the resin's viscosity, essential for high resolution DLP 3D printing. Further, it allowed for the 3D production of elastic and strong 3D printed objects.
At what stage in the process is tomography employed?
CT scans are needed to create a 3D model of a personalized stent before the printing. Thus, they are performed at the beginning of the process.
What's next for the team?
We are now trying to optimize the stents in order to control their degradation better and are investigating the possibility of including drugs to improve their performance.
Where can our readers find more information?
This work was performed in collaboration with Prof. André Studart, Head of the Complex Materials Laboratory at the ETH Zurich and Dr. Daniel Franzen, Senior Physician at the University Hospital Zurich.
About Dr. Jean-Christophe Leroux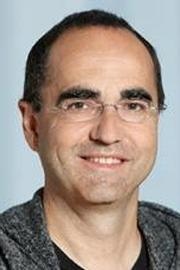 Jean-Christophe Leroux is a full professor of Drug Formulation and Delivery at the Institute of Pharmaceutical Sciences at ETH Zurich, Switzerland (www.galenik.ethz.ch). He was trained as a pharmacist at the University of Montreal (Canada), obtained his Ph.D. in Pharmaceutical Sciences from the University of Geneva (Switzerland) and worked as postdoctoral fellow at UCSF (USA).
Dr. Leroux was a professor of Pharmaceutical Technology at the University of Montreal from 1997 to 2008. He has made important fundamental and applied contributions to the fields of biomaterials and drug delivery, and has also been involved in the development of innovative bio-detoxification systems.
Prof. Leroux has published more than peer-reviewed 260 research articles and book chapters, is the (co)inventor of several patents and patent applications. He is a fellow of the AAPS, EurAsc and the CRS, and the co-founder of Versantis AG and Inositec AG, two ETH spin-off pharmaceutical companies developing drugs for the treatment of hepatic encephalopathy/urea cycle disorders and vascular/kidney calcification, respectively.

Disclaimer: The views expressed here are those of the interviewee and do not necessarily represent the views of AZoM.com Limited (T/A) AZoNetwork, the owner and operator of this website. This disclaimer forms part of the Terms and Conditions of use of this website.