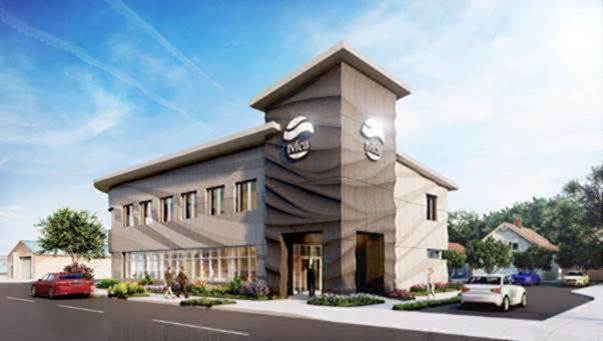 It's not very often when a credit union breaks from the formulaic mold of a conventional branch design.
In fact, the $1.9 billion Tennessee Valley Federal Credit Union in Chattanooga will be opening in May what it said is the industry's first-ever 3D-printed branch facade that will showcase the credit union's wave brand logo into the building's design.
TVFCU hired Branch Technology, an architectural fabricator specializing in construction-scale 3D printing and a credit union business member, to design and build the 6,000-square-foot, two-story branch in the heart of the south side of Chattanooga. That part of the city was once known for its abandoned warehouses, manufacturing plants and old buildings, but it has been experiencing a revitalization of new businesses, homes, apartments and other eclectic urban amenities such as recreational parks and live music venues.
A few years ago, TVFCU President/CEO Todd Fortner heard about the up-and-coming Branch Technology company and was intrigued about it. The company's name, by the way, does not mean it specializes in designing and building branches for financial institutions. Branch Technology bills itself as an advanced manufacturing company that designs and creates next generation building systems using construction scale robotic 3D printing for a variety of construction projects such as pavilions, sculptures, plazas, sleeping pods and drone landing pads that all look futuristic.
"Several years ago, I had the opportunity to visit Branch Technology when they were located in the INCubator at the Hamilton County Business Development Center," Fortner said. "I was amazed at what could be made on a large scale with 3D printing. I immediately began to think about how we could incorporate this new technology into a future project."
Branch Technology's team created the branch's facade design that highlights the beauty of Chattanooga's natural surroundings and TVFCU's wave brand logo. Once the facade design was finalized, the company's manufacturing robots began the 3D printing the structure using cellular fabrication, C-Fab, which Branch Technology said is a unique printing method that allows material to solidify in open space, creating a construction grade matrix of polymer in virtually any shape.
Each panel of the facade weighs between 400 and 600 pounds each, and once they are all connected and installed, Fortner noted, the undulating wave pattern of the credit union's logo will appear throughout the branch's exterior.
John McCabe, an advanced concepts team member and director of communications at Branch Technology, described this project as a "staple of design freedom because it is a one-of-a-kind product outside the literal box of repetitive, conventional construction and facade manufacturing."
Fortner said he believes the branch's distinctive and unique design will be a perfect fit for the Chattanooga's southside sought-after live-work-play community.
"I think that [the branch] speaks to our spirit of innovation from a member service perspective. So instead of an old stodgy credit union branch we're certainly casting a different reputation with a building like this," he explained. "And I think another big thing is that we partnered with a local entrepreneurial company to pull this project off.  Credit unions are hyper-local, and we've done a lot of innovative things on our business lending side in order to appeal to local small businesses. We've worked with Branch Technology to help them get their product shown to the world because we've gotten inquiries about this branch project from architectural magazines that have a national readership."
Fortner said the overall cost of the branch project was very reasonable, noting that the new 3D technology manufacturing process increased the overall cost by less than 5% compared to a traditional branch construction project.
Admittedly, Fortner was somewhat apprehensive after construction of the branch began. "The pictures of the new branch looked great but until you see it come to fruition, you're on pins and needles," he said. "The process of putting in the facade panels had been really touch and go and we were really sweating about whether our contractor could pull it off, but once they got into the rhythm to it and when we saw it coming together it is exactly what we were hoping for and more."
Fortner said he is not sure whether he will use this 3D technology to build more branches, but he won't rule it out.
The southside location will be TVFCU's 20th branch.
"While our competitors are closing branches, we are opening them," he said. "We are constantly looking for better ways to serve our membership. We saw a void in our service area and decided to add a branch."