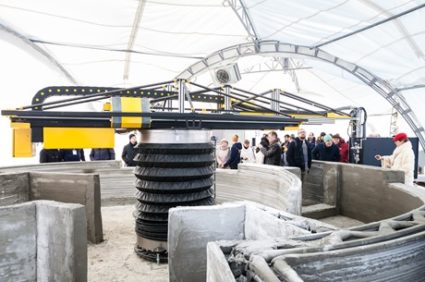 Following their involvement in our 'How 3D Printing Is Changing Construction' webinar we've been speaking exclusively with Paul Mullett – Group Engineering and Technology Director at the Robert Bird Group…
Q. Could you share with us some of the recent work of the Robert Bird Group in consulting on major engineering schemes?
Robert Bird Group is a global civil and structural engineering consultancy and a member of the Surbana Jurong Group. We focus on bringing value by integrating design excellence with construction and delivery expertise. Recent projects include Battersea Power Station in London, Brookfield Place in Dubai and Crown Sydney.
Q. In your experience how can innovation construction technology improve and accelerate construction schemes?
In one word. Value. Technology must demonstrate value, and in doing so be cognisant of the real cultural and systemic barriers that exist in the industry. The industry wants greater productivity, less risk and greater certainty. Technology can provide it, but only if we're asking the right questions and engage transparently with all industry stakeholders to deliver it.
Q. You have been advocating for 3D printing to be welcomed with open arms by the industry as an exemplar of the potential of innovation – what do you see as the long term potential of the technology?
As we see with the introduction of any technology, we must move beyond the innovators (where we currently are) to reach early adoptors and then the early majority. It is here, that we will be able to achieve scaleability and greater integration with our existing construction toolkit, and where the potential will be truly realised. I see opportunities to add value in low-rise, low-cost, mid-scale housing developments, community housing schemes, or in areas where access to labour or supply chains are challenging, but as the technology develops the opportunities will increase.
Q. There is a perceptive of construction as being a rigid industry adverse to innovation – to what extent do you agree with this characterisation?
This is a 'glass half-full or half-empty' question which is driven very much by perception. It is a fact that many of our paradigms for design and construction have changed little over the last century, whilst our projects have become increasingly large and complex. Technology has delivered significant incremental benefits in terms of efficiency however it has yet to truly transform how or what we deliver, partly due to barriers to innovation. In the last few years there have been developments in both technology and collaboration mechanisms suggesting that the status quo is about to change. It is an exciting time for the industry.
Q. What do you see as the major obstacles holding back the adoption of 3D printing within the construction sector?
Firstly, I don't believe technology is a barrier. Whilst there are certainly technological limitations, these do not diminish the benefit potential. The primary obstacles are systemic and structural – the way we fund innovation, the way we procure, the way we manage risk and the way we collaborate. All of these things currently focus on short-term goals or gains, and we need to find a way to switch these to be more long-term focused.